What are The Most Popular Adidas Yeezy Shoes ?
What we usually say about Yeezy is actually the cooperation between Adidas and Yeezy. Since the first Adidas Yeezy pair came out in 2015, Yeezy has been very popular for its high comfort boost midsole and stylish avant-garde upper design. In short, Yeezy is both comfortable and stylish, unlike traditional "hard lame, ugly, unbearable looking" sneakers! So that for a long time, Yeezy became the only sneaker for young people to go shopping!
Next, I will talk about Yeezy's 5 series of shoes in terms of comfort, fashion and size choices, and talk about whether they are worth buying.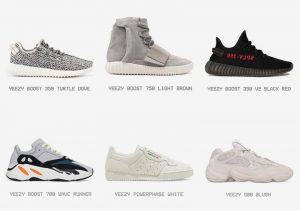 Yeezy 750 (Yeezy with the most attention)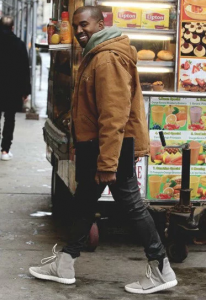 Comfort: ★★ ☆
Trend: ★★★★★
Size: plus size
Price: $ 350
Start suggestions: collectors recommend
As the first pair of Yeezy launched in cooperation with Adidas, Yeezy Boost 750 is also the highest-selling Yeezy. The most intuitive feeling of 750 is that it is cool! Suede shoes with a high-top design, especially like the trendy military boots, simple zipper, and Velcro combination, but it highlights the whole pair of fashion and ascetic beauty.
In color matching, Kanye has fully exerted the trend of the earth color system and has launched four colors of light brown, black, gray, and chocolate. As soon as this shoe was released, it caused a scene of "hard to find a shoe", and the "resale value status" in the Yeezy family has not been shaken so far.
Unfortunately, the comfort of this shoe is the worst of all Yeezy. The high-top suede design is like a double-edged sword, making its upper feet feel like "hard" as it looks, not resistant to dirt, and the zipper sliding is relatively jerky (so you can see street shooting stars with their zipper on their feet 750, not for concave shape, but really can't pull it!), Although the chocolate color that was finally introduced has made a little improvement in the softness of the leather, on the whole,it is destined to be a pair of sneakers born for the display cabinet. Of course, if you are a sneaker enthusiast, don't miss to collect this Yeezy.
Yeezy 350 V1 & V2 (most common Yeezy)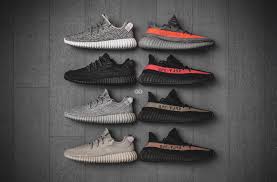 Comfort: ★★★★★
Trend: ★★★
Size: v1 plus-size; v2 half size
Price: $ 220
Getting Started: Daily essentials
Immediately following the popularity of 750, the low-top Yeezy 350 shoe was launched. In fact, 350 shoes are divided into V1 and V2 versions. After Yeezy released the last pair of V1 350s in February of 2016, all 350 shoes are V2 versions. V1 is no less difficult to grab than 750, so I only got baby shoes.
One canvas at the heel pulling ring 350 has become a symbol of shoes; Yeezy V1 and V2 versions of the 350 have adopted the design woven uppers, permeability is very high, in summer wear will not sweltering. V1 and V2's biggest difference is that the preparation of the different patterns of the upper; careful comparison can be found than V2 to V1 material stiffness that is different from the width of the toe.
Because the 350 currently on sale are all V2 versions, the following highlights the V2 shoe type! Compared to V1, V2 has a more streamlined design at the toe, arch, and shoe tail, and the boost sole at the sole is wider.
It is no exaggeration to say that the Yeezy 350 V2 is a popular sneaker because it has sold more than 20 color schemes so far (and it is still increasing), and several of them have also been released several times. Improve, the color like Triple White has made a million pairs last year, and really went according to Kanye's goal of "one pair of Yeezy".
Maybe some people think that 350 streets are bad, but I think a good pair of sneakers should make people have the desire to "wear all over the sky, and not just a vase for viewing." Yeezy 350 V2 is the shoe that I think is the most comfortable to wear. It has boosted the shock absorption effect of the t to the utmost, and it is even more effortless to match. It is suitable for both skirts and pants. The head will be tipped, it is recommended that you can buy half the size of shoes than usual.
Yeezy Calabasas Powerphase (a tribute to Adidas classics, less audience)
Comfort: ★★★★
Trend: ★★
Size: plus size
Price: $ 120
Getting Started: the day ride is available
Calabasas is a pair of classic engraved shoes; if Yeezy's other shoes are "wild tough guys", then Calabasas is a handsome "Xiaojiabiyu". The original version of this pair of shoes is tennis training shoes from the 80s, the soles are thinner, and the material of the whole pair of shoes is relatively light. Kanye uses Adidas' classic three-bar and clover logo as important elements of this pair of shoes, revealing a full of retro feelings. Unfortunately, this pair of shoes does not have the same high exposure as other Yeezy shoes, but its soft leather toe design is definitely the first choice for those seeking comfort in shoes. I have assembled all three colors of this shoe because I find it very comfortable to drive in these shoes!
Yeezy 700 (a popular product of daddy shoes)
Comfort: ★★★★
Trend: ★★★★★
Size: half small
Price: $ 300
Getting Started: Strongly recommended
In 2017, the trend of dad shoes swept the entire sneaker industry, and I think Kanye played a role in it. When the first color wave runner of Yeezy boost 700 set off the trend again, major brands are racing to launch the shoes of the old shoes.
Yeezy 500 (Yeezy without boost)
Comfort: ★★★ ☆
Trend: ★★★★
Size: half small
Price: $ 200
Starting suggestions: more recommended
You read that right! This is a Yeezy without boost.dapalene's new technology. In short, it is replaced by elastic rubber soles, which also have a cushioning effect. It feels slightly harder than boost soles, but the overall feel is also very comfortable. Also as a retro daddy shoe, the color of the 500 is a regular color. It is stitched with different materials, especially the 3m reflective material inlaid on the upper of the shoe. Image of daddy shoes.
In fact, Yeezy's shoes also include desert boots, military boots, etc., but the audience is relatively small compared to the above, so it is not introduced here.